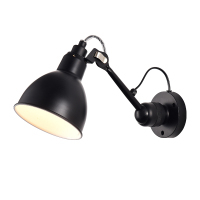 Designer lighting Replica Bernard Albin Gras N304 Wall Lamp
$120.00
I really love the look of these! My apartment is lacking in overhead lighting, and I was feeling frustrated with using floor lamps to light the room, but limited because an apartment rental doesn't allow for a hardwired installation of more lighting. They were easy to hang. The clear cord blends pretty well with the wall and doesn't look sloppy, though I wish these came with cord clips to keep them in place. All in all, a good buy and I definitely plan on buying more to replace the rest of my floor lamps.
I did not hard wire these lights. I specifically bought them because they could be used without hardwiring--I wanted the ability to change my mind as to location with minimal effort (i.e., filler and paint). I use these are reading lamps to flank my bed and they are wonderful. I bought Edison bulbs to go with them, but I imagine standard LEDs wouldn't look bad either--though the spiral set lights would look a bit more obvious, but I suppose it ultimately depends on your use and purpose for them. I installed them myself in about 10 minutes (for two) with little effort (i.e, measuring tape, pencil, level, drill). Look great. Work great. Good price.
Super quality ,the lamp is nearly like the original . I Love it
product is very good ,very love the design.
Very fast delivery ,super quality .5 star

Your cart is currently empty.