SQUD
Fashion lighting Serge mouille two arm curved rotating wall lamp
More inquiry or wholesale business ,pls contact us : cs@udesignhome.com Grolia
Discover the elegant design of the Serge Mouille two arm wall lamp.
This classic wall lamp adds a touch of sophistication to any room. With its sleek lines and modern look, it's perfect for those who want to create a stylish decor. Get yours now and enjoy the benefits of quality lighting.
Dimensions
Details
Material: Metal
Light source: E27
Power: Max 40W
Weight: 5.6KG
Shade Color: Black
Control method: push button switch (not dimmable)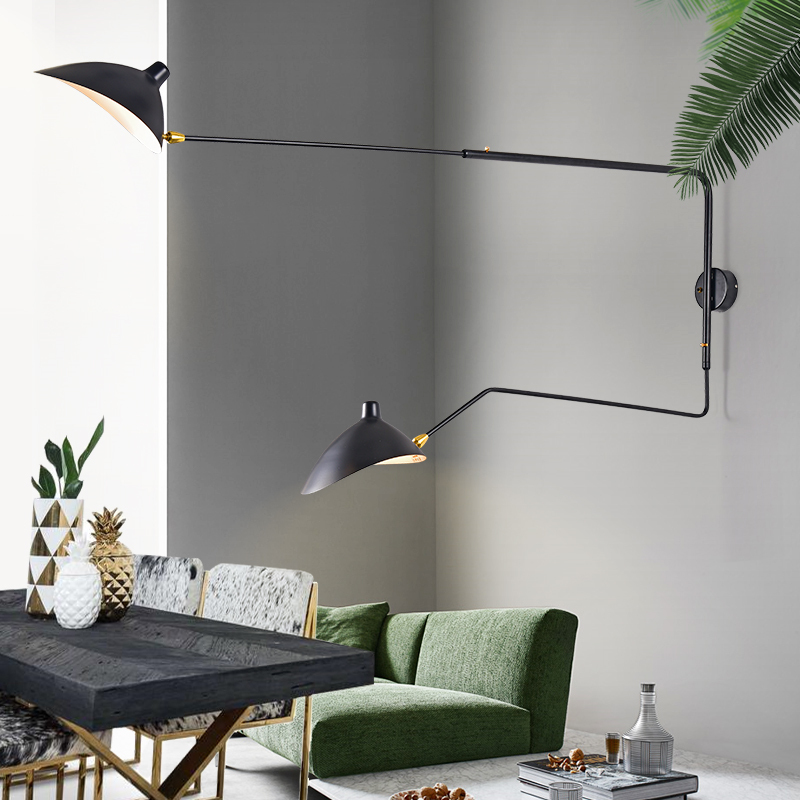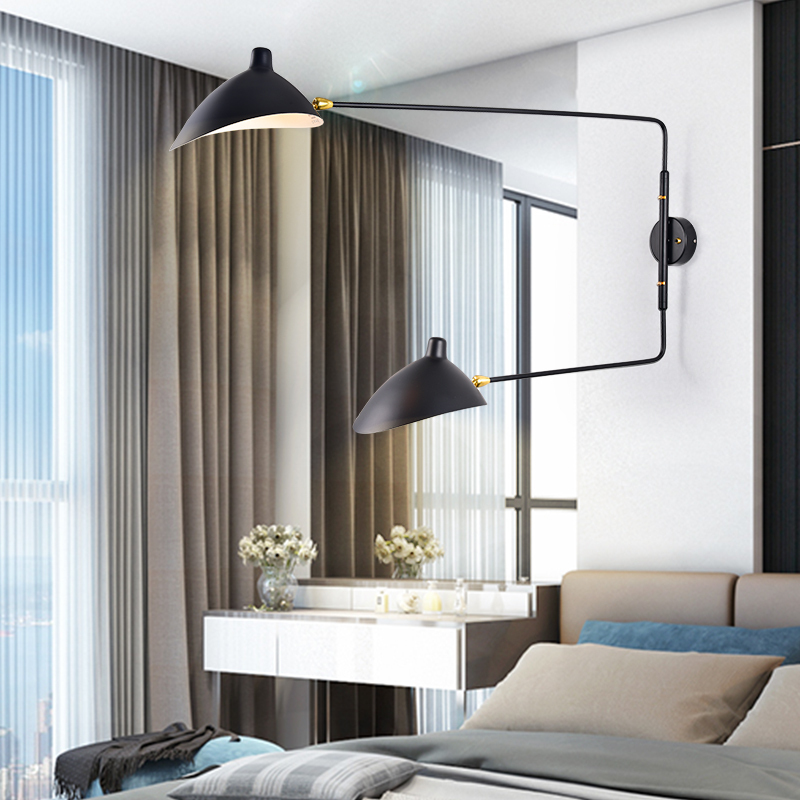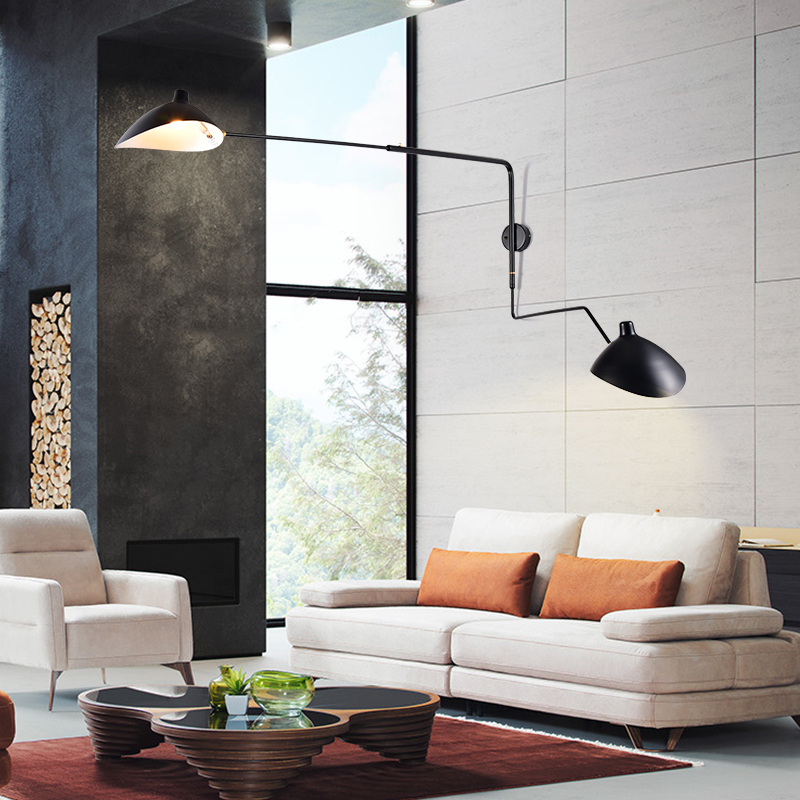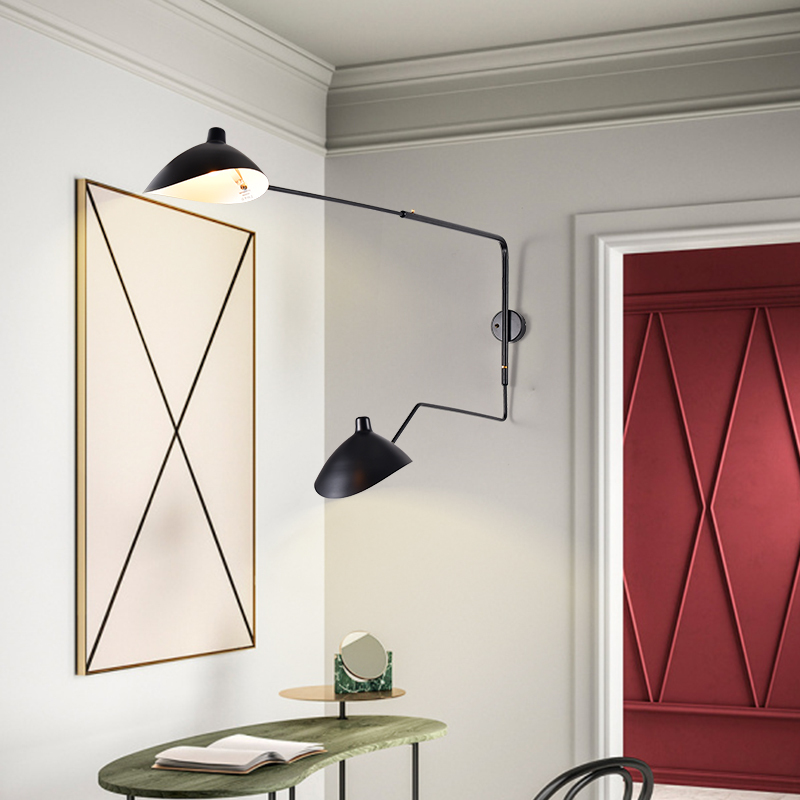 Designer Info Serge Mouille
Serge Mouille France (1922-1988)
Born in Paris, Serge Mouille's parents, a policeman and a seamstress, were disappointed by his decision, at the age of 13, to enroll in the School of Applied Arts' silver workshop. The youngest student there, he embraced metallurgy and silversmithing - and was so gifted at the trade, he started teaching at 25. After getting his degree, he worked for a few different companies and apprenticed under Gabriel Lacroix before starting his own workshop.
In 1953, Mouille introduced his first lighting design, the Three-Arm Floor Lamp. Drawing on his intimate knowledge of metals, as well as his interest in musculature and skeletons, the Three-Arm Lamp was both minimal and organic in form. The shape of the shades was inspired by one of his favorite things - the female form. "Lamps are there to be touched," said the designer. Though his logic might be somewhat suspect, the design was anything but. The Three-Arm Lamp has gone on to become an icon of modern design, originals fetching as much as six figures at auction.
In 1956, gallery owner Steph Simon began showing Mouille's work - all of which he handcrafted himself - alongside pieces by Charlotte Perriand, Isamu Noguchi and Jean Prouvé. It was around this time that Hollywood icon Henry Fonda literally showed up on Mouille's doorstep. Refusing to leave until Mouille made him a lamp (the Frenchman had no idea who this Mr. Fonda even was), the designer relented. Fonda then received the first Mouille lamp to hit U.S. shores.
In 1962, Mouille introduced his Colonnes Collection, a distinct break from the functional lighting he had become famous for. Using the newest in lighting technology - the fluorescent tube - his "columns" of light were more artistically motivated and were not as well received. A potential partnership with Knoll fell through due to Florence Knoll's opposition and Mouille retreated from lighting design, returning instead to his first love, silversmithing. By 1964 he had ceased production of his lights and spent his remaining years teaching at the School of Applied Arts and designing jewelry.
Tags: fashion serge mouille wall lamp, serge mouille wall lamp factory, serge mouille wall lamp brands, replica designer pendant lamp suppliers
If you want to know more products, we have: serge mouille wall lamp, serge mouille three heads lamp, cheap serge mouille three heads lamp